NEWS




---
---
HUTS Telephone Support
HUTS Telephone Support
HUTS Telephone Support
---
Castle Lights
---
Let There Be Light!
Town Enhancements
Last month members of Newcastle Emlyn Town Council spent a day replacing the flood lights illuminating the Castle. The previous ground positioned lights were constantly being vandalised so it was decided to replace them by erecting posts and having the new lights at high level.

Following a long drawn out process, from planning, consultation and permission from several different public bodies, the actual work was undertaken.

On the morning of 14th June 2018 the Castle Grounds were amassed with construction machinery at the ready, but were delayed for a while due to the archaeologist (who had to be present before any works could take place) having not arrived. After a few phone calls the missing person finally turned up and the work got underway under his watchful eye.

A specialist 'ground drill' supplied by Ceiros Davies Ltd. and operated skillfully by Alan Davies was used to bore holes for the lamp posts. Further excavation then took place to lay the underground cables. Fortunately, nothing untoward was found during the dig and the Archaeologist went on his way.

Phase Two was to erect the two 32' long posts using Ceiros Davies's machinery with the assistant of Councilllors Alan Jones, Barry Evans, Cefin Evans, Peter Lewis, Kelvin Baker and also the Town's 'handyman' Wyn Davies putting in some very hard graft.

Phase Three – enter the electrician Jo Thomas to carry out the fitting, wiring and connecting up of the lights using Mark Jukes's JCB Telescopic Telehandler. A rather hairy experience to say the least on such uneven terrain.
A few days later the lights were turned on and the Castle was looking elegant and graceful showing off it's 'new look' to all in the evenings.

The Town Council will be erecting CCTV cameras to the posts at a later date, thus hoping to wipe out the unnecessary vandalism that takes place on the Castle Grounds at present.


---
Newcastle Emlyn Food Festival
NEWCASTLE Emlyn town community has come together again to bring you the food festival on 9th June 2018.

For the eighth year running, the King George V playing field will be filled to the brim with all things fun and foodie! Local producers are lining up again to present their fantastic produce to you, and this year, the committee is promising a day full of entertainment, activities and more producers, and of course, the ever popular chef demonstrations. Helena Lewis from Dai Lewis estate agents will be opening the festival at 11am. We have a busy kitchen lined up with two chefs. The first demonstration will be by Mandy Walters from Cardigan Bay Fish and our second chef is Jayne Holland from Veganishmum. They are looking forward to demonstrating their skills and cooking for the audience.

On the performance stage local schools including Y Ddwylan, Cenarth and Penboyr are teaming up to support this local event. Ysgol Gyfun Emlyn and Ysgol Bro Teifi choirs, talented soloists as well as a visit from Sali Mali will ensure you have a great day out and celebrate the town. More information can be found on the facebook page Gŵyl Fwyd Castell Newydd Emlyn Newcastle Emlyn Food Festival (don't forget to "like"!) or follow us on Twitter @gwylfwydcne - The town's looking forward to seeing you on the 9th June at Newcastle Emlyn Food Festival, 10am-4pm.


---
Gwyl Fwyd Castell Newydd Emlyn
Mae cymuned tref Castell Newydd Emlyn wedi dod at ei gilydd unwaith yn rhagor i drefnu'r ŵyl fwyd ar 9fed Mehefin 2018.

Am yr wythfed blwyddyn yn olynol bydd caeau chwarae Brenin Siôr V dan ei sang gyda phob math o fwydydd. Bydd cynhyrchwyr lleol yn heidio i'r ŵyl eto i arddangos eu cynnyrch o safon uchel ac eleni mae'r pwyllgor yn addo diwrnod yn llawn adloniant, gweithgareddau a mwy o gynhyrchwyr ac wrth gwrs yr arddangosfeydd coginio poblogaidd. Helena Lewis o werthwyr tai Dai Lewis bydd yn agor yr ŵyl am 11yb. Mae amserlen brysur gyda ni yn y gegin gyda dau gogydd. Bydd yr arddangosfa gyntaf gan Mandy Walters o Cardigan Bay Fish ac ein hail cogydd yw Jayne Holland o Veganishmum. Maent yn edrych ymlaen at arddangos eu sgiliau ac at goginio i'r gynulleidfa.

Bydd ysgolion lleol gan gynnwys Y Ddwylan, Cenarth a Phenboyr yn perfformio ar y llwyfan i gefnogi'r digwyddiad lleol. Bydd perfformiadau corau ysgolion Gyfun Emlyn a Bro Teifi, unawdwyr talentog yn ogystal ag ymweliad gan Sali Mali yn sicrhau y bydd yn ddiwrnod i'w gofio ac i ddathlu'r dref. Mae mwy o wybodaeth ar dudalen Facebook Gŵyl Fwyd Castell Newydd Emlyn Newcastle Emlyn Food Festival (cofiwch wasgu "hoffi"!) neu dilynwch ni ar Twitter @gwylfwydcne – Mae'r dref yn edrych ymlaen at eich croesawi ar 9fed Mehefin yng Ngŵyl Fwyd Castell Newydd Emlyn rhwng 10yb a 4yp.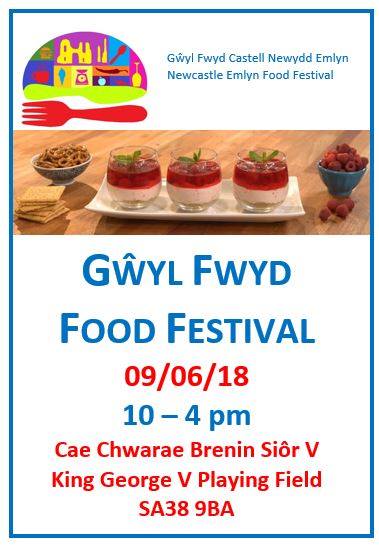 ---